The Line Between Rules & Tools

Weltformat Design Festival
Newcomer Award 2019
Poster Design
Designer
Brief
The Weltformat Graphic Design Festival in Lucerne (Switzerland) recently has been announced for this year's theme "Tools and Rules." Organizers are interested in how the work of designers and their visual solutions influence by tools and instruments as well as specific rules and guidelines.

Idea
Creating the scenario of rules and tools that we are all used to seeing in a sport-related manner. But, I then later on contrasted the set up with political issues that were not being broadcasted to the people in the United States.
---
Sketches & Notes
I began to research the NBA and illustrate an abstract form of the NBA Championship trophy that represented the tool that is used to convince people to play a game with a set of rules that had to be followed by the players, but not for the owners. But, I started to notice the displacement and treatment of people behind the American border and how this is prominent to the idea behind "Rules & Tools."

Systems A sign that will refer to material objects, including people either using markings/marks on a hard or soft surface that will carry meaning. Multiple combinations of these signs a language.

Rules
Rules cannot deal with every situation due to the human interaction and choices and the judges that had taken place. Ruling always takes place within an arena, territory, or property where it deals with the action and judgment is taken place. Rules create contexts in which such actions are possible; thus, actions cannot be separated from the rules thereby embodied.
Tools
It can be material objects that are employed to alter other material objects. In this case, people can be tools as well being under control under the forms of signage, markings on a hard or digital surface shaped to carry meaning.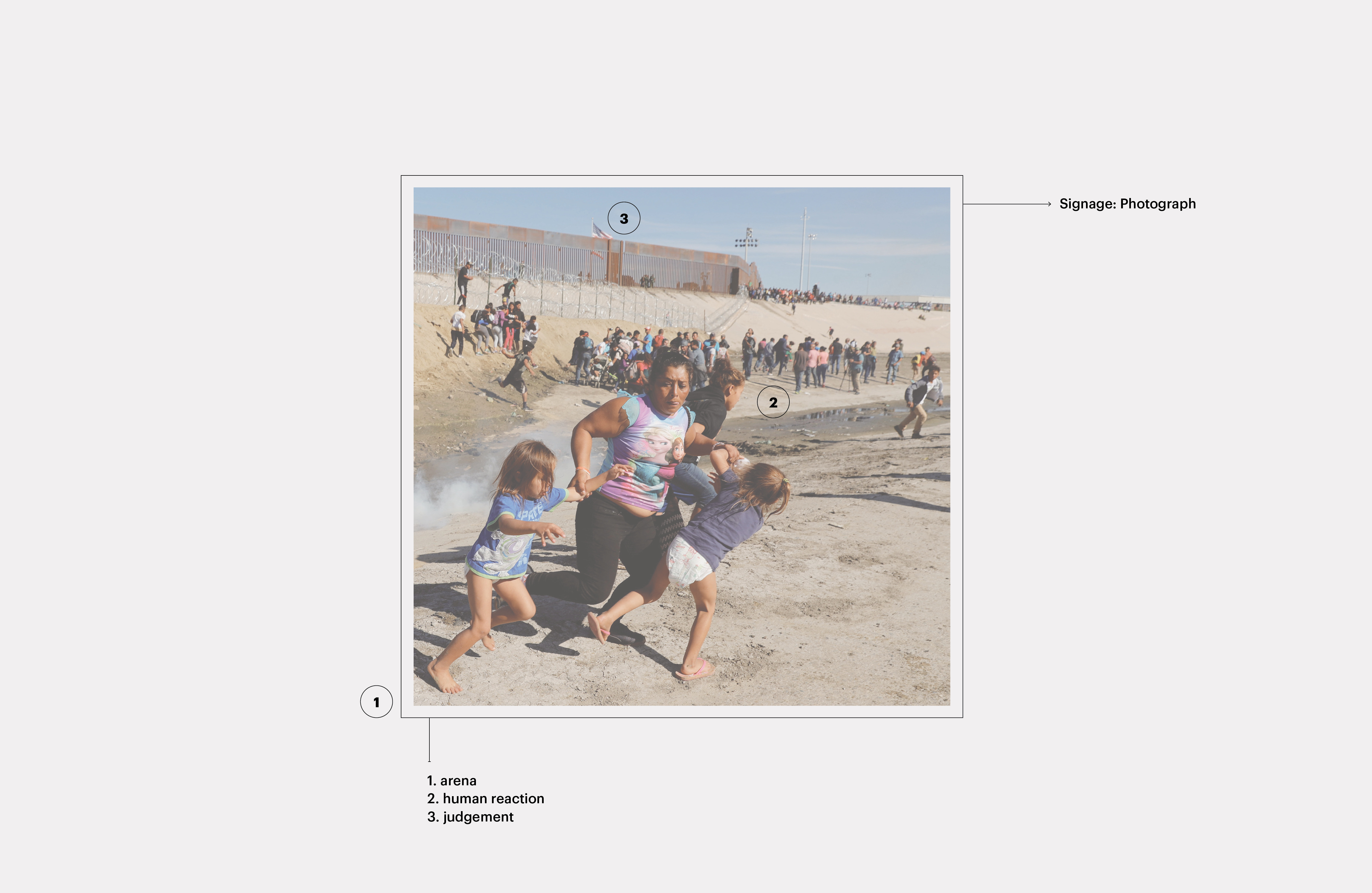 ---
Story
This practice has been happening since the start of the United States. Here is a quote from one of the photographers from Reuters shared his experience with mother Maria Meza, who is grabbing her two twins that are running from toxic gas.

"After nearly two weeks of documenting the harrowing journey of a caravan of mostly Central American migrants headed towards the U.S.-Mexican border, I snapped a picture I will never forget. Before the tear gas fired, I had followed some of the migrants as they approached a section of the border fence recently reinforced with razor-studded coils. United States border agents warily eyed the group from the other side."


Photo by:
Kim Kyung-Hoon
---
Communication
Here are the final posters showing two different arenas where rules and tools projected differently. Layering each other and only being able to see what we can — recalling our way of obtaining information that is not 100% transparent.